Apprentice Crone's hearing trumpet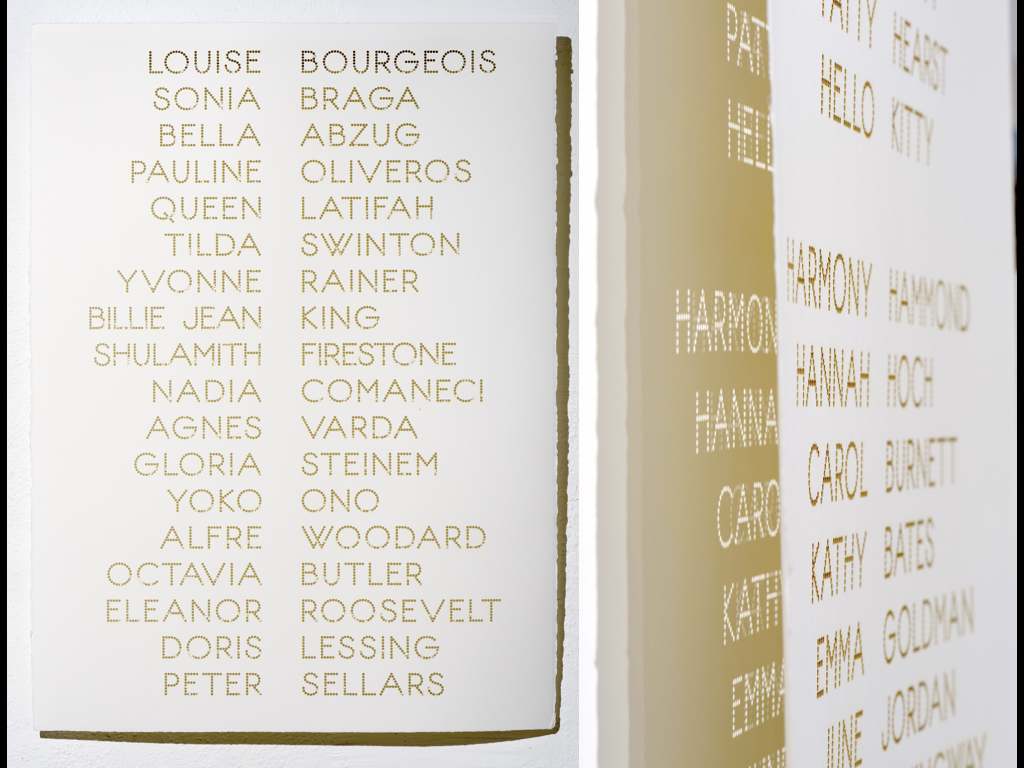 Apprentice Crone's Hearing Trumpet. September - October 2015 Commonwealth & Council Gallery, Los Angeles
The Apprentice Crone is a compulsive annotator, she is infatuated with lists. Her artistic medium is study. She is an "older mother" of a young child. She is a writer, a reader, an observer, an analyst and an analysand. She is a "lusting, celibate, spiritual feminist," and she may be outgrowing her hero.
Apprentice Crone's Hearing Trumpet's elaborated the premise begun in a prior show (Martina Johnston Gallery), that is, the exhibition is a gallery-based notebook devoted to imagining a film version of Leonora Carrington's book The Hearing Trumpet. Apprentice Crone's…. was structured around 13 laser-cut, rag paper prints, called Cast Lists, mounted to aluminum brackets to feature their perforated texts' play with light on the wall behind them. Each of the 13 cast lists names 17 fantasized 'actors'—living and deceased and even fictional figures drawn from politics, philosophy, sports, popular culture, art history, film, theatre, and my own past and family—for a film, perhaps called The Apprentice Crone's Hearing Trumpet. The casts are alliteratively ordered lists of names, each person or character imagined as an elderly version of him or herself, but also a name in lights, a cut-out, a portal through which light is projected onto the wall behind. In the gallery these rather clean, formal, even slightly taciturn but also funny prints became the meter, a tempo through which photographs and post-it notes - remnants of casting or production design research - sang little phrases of image and words.
In Commonwealth and Council's smaller gallery, I installed Anthem and Anthem Practice, a single channel and four-channel video respectively, alternating in their playback. The videos are a fractured, loving, but also brutally close up view of a group of senior citizens (mostly female students in a musical theatre class) learning and rehearsing the Oscar-winning song, Let it Go from Disney's 2014 hit movie Frozen. I am the "star" of the videos, playing Elsa, the Ice Queen, although I'm notably more self-conscious, more aware of the camera, and though younger than the other singers, also less 'free.' (In 2014, searching for amateur, older actors to improvise scenes from The Hearing Trumpet, I learned that my neighborhood elder theatre school was offering a musical theatre class where "Let it Go," would be taught to people 50 and over. My 4 year old daughter and her pre-schoolmates had been singing it for months and I knew it well. I signed up, eligible at age 52, and received permission to film the class.)
Maybe "Let it Go" is the anthem for Carrington's book, which I've been living inside of and through for years already. So long, in fact, that the Apprentice Crone had to be created: an avatar to understand, tolerate, and find humor in the othering experience of my own real aging.
Every Thursday during the run of Apprentice Crone's Hearing Trumpet, I presented Glandular, Indeed, a Poet's Theatre* series. Using my own exhibition as the set, a carefully cast and intergenerational group of Los Angeles-based writers, artists, historians, children, (and even film producer Julie Corman!) read monologues and particularly hilarious scenes from The Hearing Trumpet.
Glandular Indeed Performers: Tala Mateo, Jessica Rath, Audrey Wollen, Leslie Dick, Matias Viegener, Marnie Weber, Jocelyn Saidenberg, Bill Basquin, Regina Clarkinia, Veronica DeJesus, Steven Nelson, Rochelle Gomez, Julie Corman, Amanda Eicher Philip Yenawine, Wyla Yenawine, Yong Soon Min, Renee Petropoulos, Roger White, Susan Silton, Christine Wertheim, Cirilo Domine
* Poet's Theatre - a community-based, performative literary practice; plays are staged on-the-fly, with minimal props, costumes and other traditional theatrical elements; read with scripts in hand; usually cast from a creative community and presented informally. Per poet and critic David Buuck, poets theatre "seeks through a rigorous amateurism to explore different models of group process, communication, and collaboration, if not to inject such models with a radical social agenda or message."